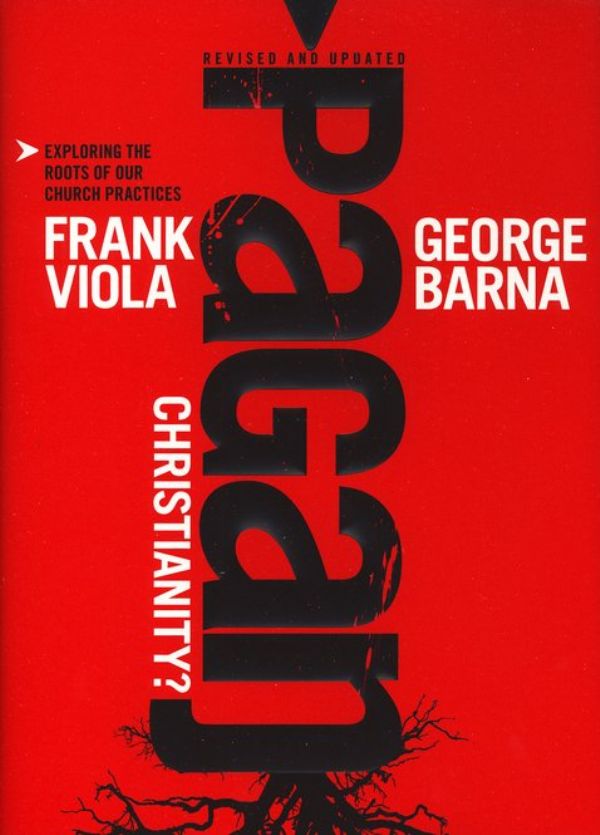 Pagan Christianity: Exploring the Roots of Our Church Practices (book) by Frank Viola
SKU#: PROD40686
Offering compelling historical evidence, the authors maintain that most of what Christians do in present-day churches is not rooted in the New Testament, but in pagan culture and rituals developed long after the death of the apostles.


Many Christians take for granted that their Sunday morning worship service is rooted in the New Testament, but why does the church in the New Testament seem very different from our own expressions of corporate worship? Frank Viola and George Barna come to the startling conclusion that most of what Christians do in church is rooted more in pagan culture than in the New Testament.
Discover how many church customs really originated. This thought-provoking exploration into the background of how believers have worshiped for centuries uncovers many non-Christian roots. From the order of worship to the pastor's sermon, traditional dress codes to Christian education, Viola and Barna take a revealing look at Sunday morning. 304 pages, hardcover from Barna Books.
Frank Viola is an influential voice in the contemporary house church movement. Frank is a nationally recognized export on new trends in the church, holds conferences on the deeper Christian life, and is actively engaged in planting New Testament styles churches.
George Barna is the chairman of Good News Holdings, a multimedia firm in Los Angeles that produces Movies, television programming, and other media content. He is also the founder and directing leader of the Barna Group, a research and resource firm in Ventura California. He has been hailed as "the most often quoted person in the Christian Church today" and is counted among its most influential leaders.
Have you ever wondered why we Christians do what we do for church every Sunday morning? Why do we "dress up" for church? Why does the pastor preach a sermon each week? Why do we have pews, steeples, choirs, and seminaries? This volume reveals the startling truth: most of what Christians do in present-day churches is not rooted in the New Testament, but in pagan culture and rituals developed long after the death of the apostles. Coauthors Frank Viola and George Barna support their thesis with compelling historical evidence in the first-ever book to document the full story of modern Christian church practices.

"Most contemporary Christians are massively ignorant as to how the church got to where it is today and of how much current church practice is due simply to accumulated tradition, with little or no roots in Scripture. This book provides a useful service in peeling back the layers of tradition, showing the origins of much that we today call "church." Christians who want to be biblically faithful, regardless of their particular tradition or church form, can learn and benefit from the book."
-

Howard Snyder

, Professor of History and Theology of Mission, Asbury Theological Seminary, author of

The Problem of Wineskins

The Community of the King.



"PAGAN CHRISTIANITY is a landmark, a true milestone in the overall task of bringing in a new style of responsible, interactive Christianity to replace the old, severely paganized ecclesiastical forms. Frank has done us a great favor, drawing together revealing tidbits from hundreds of sources to create a continuous picture of the formation of today's institutional church. There's nothing like it in print. It is now THE book on church history from the point of view of the underground, open church."
-

James Rutz

, author of

Megashift

and

The Open Church.



"PAGAN CHRISTIANITY contains a wide variety of interesting and helpful historical information of which most Christians - or non-Christians - will be completely unaware. The book identifies - in part or in whole - the pagan roots of many of our current church practices, as well as indicates some borrowed from earlier Jewish or, occasionally, more recent Customs."
-

Robert Banks

, New Testament scholar, author of

Paul's Idea of Community

and

The Church Comes Home.



"This feisty book attacks the incipient paganism that has been absorbed into historic Christianity over the years. It exposes the syncretistic weak spots in what we assume to be basic in our way of doing church. Thoroughly iconoclastic, it is also at the same time a good apologetic for the house church movement which has strong restorationist impulses. My guess is that it will anger some readers and thrill others. I am one of the latter. Whatever, it won't be too easy to dismiss as it is really well researched and substantiated. I think it is definitely worth the read even if I do think it is a tad purist in tone. Just don't drop it-it is likely to explode."
-

Alan Hirsch

, author of

The Forgotten Ways

and

The Shaping of Things to Come.



"As a Christian Artist/Musician I've had a chance to experience many different kinds of churches all over the world, from huge cathedral services to bizarre charismatics and strange Third World stuff to stiff denominationals-- and good and bad "house churches". For nearly 35 years in North America, Europe, Africa, the Middle East, and Australia I've been involved with almost every conceivable kind of Christian expression. I've even served on staff as Worship Pastor at a large church here in the U.S. The result? I've already learned from study and experience what Frank Viola and George Barna have proven by historical documentation in PAGAN CHRISTIANITY: The traditional model of how we "do church" is very wrong -- and it's strangling Christ's Body. No matter where you are in your Christian journey, you need to read this book. It's truth whose time has come. Those who have never experienced His tangible presence as a regular occurrence when they meet will find it hard to believe that there is something more than what they know: It's very hard to walk away from what you've invested your life in when you don't know anything else. And the very grace of God Himself can be confusing: He'll fill whatever cup we lift to Him, no matter how small."
-

Don Francisco

, Christian musician/songwriter

"It's a great read and my copy has already been STOLEN by my neighbor who is probably just as fascinated in its contents as I was. PAGAN CHRISTIANITY by house church guru Frank Viola and researcher/author George Barna who have teamed up to give us the most thorough treatment yet of the pagan origins of many of our most cherished Sunday church traditions. Actually, Jim Rutz nailed a few of these in his book "Open Church," but Viola and Barna have gone far beyond Rutz, or anyone I know, in exposing more elements of Protestant church traditions to the scrutiny of historical research. Like dressing up for church. Pulpits and 3 point sermons. Clerical dog collars. Church steeples and seminary training. PAGAN CHRISTIANITY lets George Barna unpack his argument why the new Revolutionaries mentioned in his previous book are not rebelling against God by setting up organic house communities. And it gives Frank Viola the chance to put forward his best thinking yet in a series that has already assisted thousands of people in dealing biblically and historically with accusations of "lack of covering" or "neglecting church" or more recently, of adopting "pagan" practices in starting emerging churches. Ha! Watch as Franky and Georgy turn the tables! Controversial? Yes . . . DUH! . . and the backlash has already started. Frank has responded to questions and objections on his site. Anyway, the book is a great read.
-

Andrew Jones

, tallskinnykiwi

"This is an important book which demonstrates that many of the practical aspects of contemporary church life, ministry and structure have little or no biblical basis and are, in fact, inspired by a wide variety of non Christian patterns and ideas most of which are inimical to Christian life and growth. Many readers will find this book challenging in the extreme but all who are concerned with the future of the church should read it."
-

Dave Norrington

, Lecturer of religious studies at Blackpool and the Fylde College, author of "To Preach or Not to Preach"
and
Product Details
Weight: 2 lbs.
Related Categories
Other Products By Frank Viola