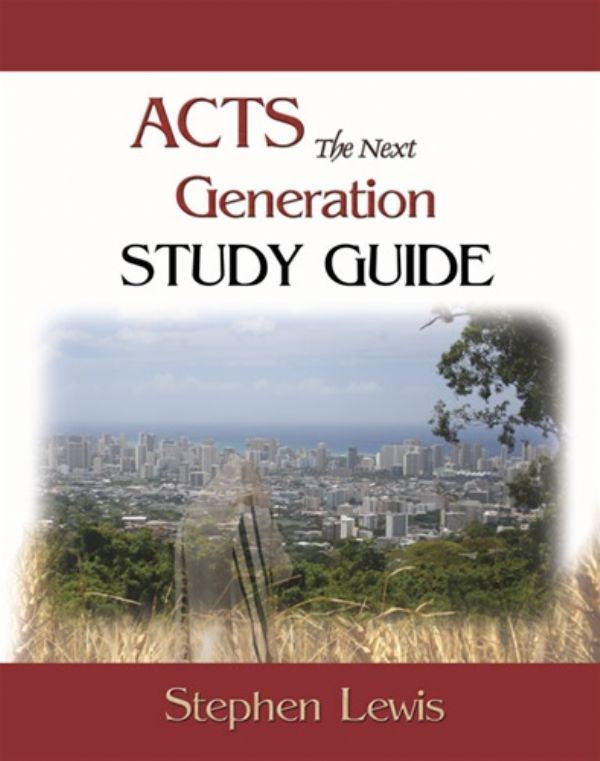 Acts the Next Generation Study Guide (E-Book download) by Stephen Lewis
SKU#: PROD41405
This is a downloadable item

. You will download a copy of this digital product directly to you computer. No items will be shipped to you.

All sales are final. No refunds

. Should you have any questions please email customerservice@filledwiththespirit.com
The purchaser is responsible for downloading and transferring the product to their computer or e-reading device.
All E-Books on Filled With the Spirit are in a PDF format. If you do not have Adobe Reader,

you may CLICK HERE to download a free copy.
Acts the Next Generation Study Guide
E-Book Download
by Stephen Lewis

This study guide is to be used in conjunction with "Acts, the Next Generation"

Jesus told the disciples to wait for a gift. After that amazing day when 120 people in the upper room were baptized by the Holy Spirit, the greatest movement of all time occurred: the movement of the Church Age. Now, the challenge to us remains: to step out in faith under the guidance of the Holy Spirit and allow God to use us to write new pages in the book of Acts.

Are you ready to be a part of the "Next Generation" of Acts?

• Learn what it means to be the "Next Generation."
• Learn to access the same power as the disciples.
• Learn some simple keys to ministry.
• Be confident in your walk with Christ.
• Get equipped and get going today!

"This book empowers you to take hold of the same miracle-working power that was available to the disciples in the book of Acts. The same power that raised Christ from the dead resides in us. It is time to be the real church- the church of Acts."
~Andy Sanders, 5 Fold Media Publishing
About the Author:

Stephen and Barbara Lewis have been married for 19 years and live in Maine. They have two wonderful children, Samantha and Andrew whom the love dearly. Barb is a full time Charge Nurse at a local nursing home. Stephen, an Air force Veteran, runs a Ministry called Friends Helping Friends, with the help of many awesome volunteers. This amazing ministry reaches out to communities with food distribution, the Word of God, and to the youth. Stephen and Barbara have a heart for the Lord and love blessing others physically and spiritually. Stephen also attends the School of Ministry at Celebration Center in Fort Fairfield Maine, and will be graduating his final year in 2011, which he will be excited to see how God will use him for His Kingdom.
Product Details
Related Categories