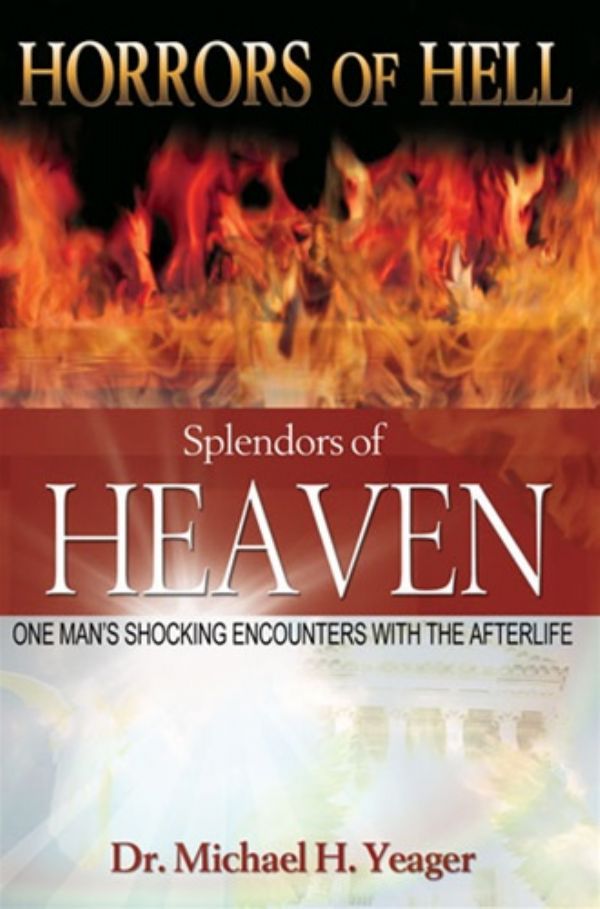 Horrors of Hell Splendors of Heaven (E-Book Download) by Michael Yeager
SKU#: PROD41423
This is a downloadable item

. You will download a copy of this digital product directly to you computer. No items will be shipped to you.

All sales are final. No refunds

. Should you have any questions please email customerservice@filledwiththespirit.com
The purchaser is responsible for downloading and transferring the product to their computer or e-reading device.
All E-Books on Filled With the Spirit are in a PDF format. If you do not have Adobe Reader,

you may CLICK HERE to download a free copy.
Horrors of Hell Splendors of Heaven
E-Book Download

by Michael Yeager
If you dare, open the pages of this book and enter into a world that is more horrifying and glorious than the human mind can ever imagine.
When you read the true story of Dr. Michael Yeager's encounter with the afterlife, you too will realize the indescribable depth of the horrors of hell, and the unimaginable splendors of heaven. Fall into the gut-wrenching realms of the damned, enter into the divine gates of heaven and be escorted by an angel into an amazing dimension of beauty and nature. End your journey upon the sea of glass before the thunder and lightning of God's throne. Along the way, you will discover answers to your deepest questions about the afterlife. Why did God create hell? What is its purpose? What is in store for those who believe? As you take the journey to hell, heaven and back, the revelations you receive will be eternal.
"The common Christian perspective of heaven and hell has been reduced to a storybook notion of good and evil. This riveting true life encounter of the reality of heaven and hell will shake you out of your comfort zone to a new perspective of what is to come." - Andy Sanders, 5 Fold Media
"If you have ever had questions about heaven or hell and what they may be like, this book has answers for you. I know this book will inspire you to arise from complacency to reach out to a lost world. His book is a catalyst for conquering defeat."
- Joanna Coe Herndon, Christian Grace Fellowship
About the Author:
Dr. Michael H. Yeager has served as a pastor, missionary, evangelist and author for over 35 years. He has helped plant over 25 churches. Dr. Yeager and his wife, Kathleen, three sons and two daughters, reside in the Gettysburg, PA area where he is the pastor and president of Jesus is Lord Ministries International. He preaches and believes in a radical commitment to Jesus Christ.
Product Details
Related Categories